Welcome
Our Protected Areas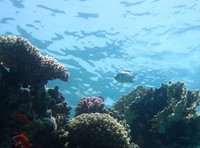 This database is part of the Caribbean Marine Protected Area Management (CaMPAM) Network and Forum activities and aims at providing detailed and standardized information of the protected areas located in the coastal area of the 38 countries and territories that are part of the Wider Caribbean or Tropical Northwestern Atlantic and Guianan Marine Biogeographic Provinces (
according to Spalding et al. 2007
)
About the Database
This database is part of the Caribbean Marine Protected Area Management (CaMPAM) Network and Forum activities and aims at providing detailed and standardized information of the protected areas located in the coastal area of the 38 countries and territories that comprise the Wider Caribbean Region or Tropical Northwestern Atlantic Coastal Biogeographic Province (according to Sullivan-Sealey and Bustamante, 1999, http://conserveonline.org/workspaces/MarCons_LAC). This project aims at assisting the management and academic communities to access standard data of sites, and better understand the MPA scenario in the Wider Caribbean. It was developed by the United Nations Environment Programme - Caribbean Environment Programme (UNEP-CEP) with funding from Swedish International Development Cooperation Agency (SIDA) and other UNEP donors.

The data has been provided by site managers or scientists closely associated to the MPAs. Users of the data are encouraged to consult other sources, if confirmation is required. CaMPAM does not assume any legal responsibility for the information contained in this database. Anyone wishing to provide edits to the database can register, however, editing requires authorization by the database manager. To request authorization send an email to , write in the subject "Edit CaribbeanMPA", and provide your name and affiliation, as well as the MPAs you are requesting to edit. Instruction will be provided and the data edits will be reviewed by the database managers.

The CaMPAM Network and Forum is an integral component of the SPAW Programme of CEP, developed to help countries meet the objectives and address the issues of the regional biodiversity treaty known as the Protocol on Specially Protected Areas and Wildlife in the Wider Caribbean (SPAW).